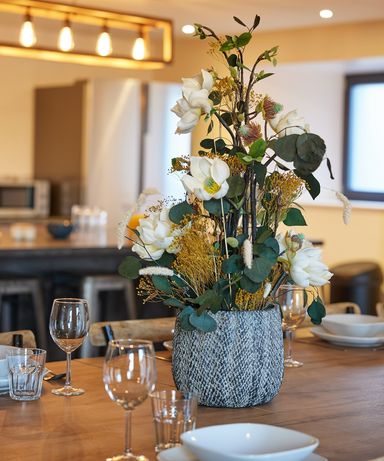 Quality
A premium holiday rental in the south of France in Auvergne
5 stars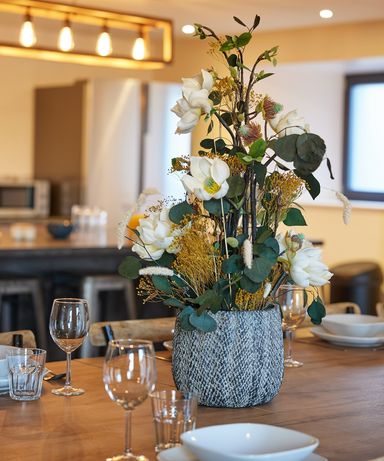 300 years of rural history have shaped the character and charm of this Auvergne farm. After being deserted for several decades, in 2020 we decided to breathe new life into my grandfather's childhood farm to create the Bâtisse de Lucien.

We envisioned the location as somewhere to come to relax, socialize and enjoy life. Sleeping 15 people, it is the perfect place to come for a family gathering or to meet up with friends, whether you want to just hang out in the house or discover a whole host of activities in the region.
Our group accommodation was designed to give everyone their own space. The large, comfortable bedrooms and living areas give everyone the space to relax and enjoy their stay in Auvergne in the south of France. Our large holiday rental has its own wellness area with a 5-seater hot tub and relaxation area overlooking the country and the Auvergne mountains. From May to September take a dip in the safe, heated swimming pool.
The Haute-Loire area offers a whole range of activities for all ages and tastes, whether you are here for a weekend or holiday. Located in southern Auvergne, the Velay is a paradise for outdoor lovers: hiking, cycling, canoeing, freshwater bathing… Just 10 minutes from the accommodation is the unmissable town of Puy-en-Velay where you can savour local specialities and take in its monuments, some of which are UNESCO World Heritage Sites.
Golden book
Le luxe dans un super cadre. Tout est grand confort, SPA, suite, cuisine , salon ... Et une piscine qui sort de terre et ajoutera encore du bien être.

You will not find any better place around. Fantastic !

Cette batisse avec de grands espaces font que chacun se sent bien , spa très bien, proximité nature et proche du Puy.

Magnifique gîte rénové avec beaucoup de goût ! Très spacieux, avec tout l'équipement nécessaire, et extrêmement bien situé, proche du Puy- en-Velay mais aussi de nombreuses balades, lacs ou autres lieux qui raviront petits et grands !

Merci pour cette Bâtisse de Lucien le grand Père.

Merci du fond du cœur à la Bâtisse de Lucien, véritable fabrique à bonheur pour des moments en famille inoubliables.

La bâtisse est sublime, le charme de l'ancien et le confort du neuf. L'espace jacuzzi est parfaitement conçu, un vrai moment de détente. Merci pour ce magnifique séjour

Toutes nos félicitations pour la rénovation de ce lieu et la chaleur que vous avez su y apporter, c'est splendide

Merci à vous pour ce weekend ressourçant

Le lieu est très calme et agréable pour passer un séjour détente et convivial

Magnifique bâtisse, aménagée avec goût et du matériel de qualité ! …le très joli jacuzzi réserve une jolie vue sur le paysage environnant…il n'y a qu'une chose à prévoir : faire durer le séjour le plus longtemps possible ! 
Surface
300m2
Capacity
15 persons
Bedding
6 rooms
Sanitary facilities
7 WC / 6 showers
Patios
80m2 covered 25m2 shady
Included services
Cleaning & bedsheets
Wellness
30m2 & 5 persons Spa
Pool
Outdoor & heated