What to do in Auvergne
The Bâtisse de Lucien is located in southern Auvergne in the Velay area of Haute- Loire.
You will find our spacious holiday rental home nestled in a small hamlet, from which you can directly take a short country walk, join hiking trails, go mountain biking or go for an electric bike ride.

Many of our region's tourist sites are just 15 minutes by car. Bouchet lake is the perfect backdrop for amazing walks and you can swim there in the summer. The unspoiled Loire gorges shelter natural treasures such as the Cascade de la Baume waterfall.
10 minutes away, the emblematic medieval town of Puy-en-Velay will charm you with its UNESCO World Heritage monuments and medieval streets. A key part of France's religious landscape, Puy-en-Velay is the starting point for many long-distance hiking trails including the pilgrimage route of St. James' way.

One of France's finest gastronomic regions, food lovers can delight their taste buds during their stay in the Velay. There are also a vast number of markets to visit in the region, the most famous of which are in Puy-en-Velay (place du plot) on Saturdays and Costaros on Mondays. The local farmers will be happy to let you taste theirproduce, including cheeses, cured meats, local green lentils, seasonal Fin Gras beef, beers and verbena liqueur.

And where there is good local produce there are of course good restaurants. We will be happy to recommend our favourite ones to you. After a busy day out, you will love our spa area and pool, and welcome the opportunity to wind down in the relaxation area or hot tub overlooking the countryside.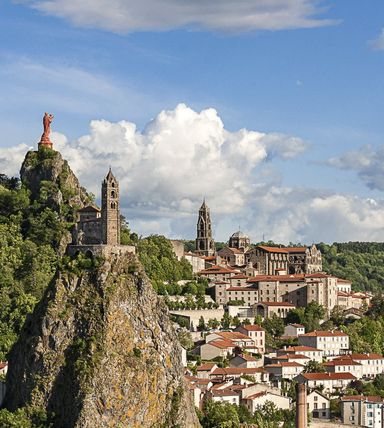 Access
Our large holiday rental home in the south of France has an ideal location with easy access from the north or south. The Bâtisse de Lucien is centrally located close to the RN 88 road, with access from Lyon in 1hr 50min, Valence in 2hrs, Montpellier in 3hrs 20min, Geneva in 3hrs 15min, Chambery in 2hrs 30min or Paris in 5hrs.
There are also regular 1-hour flights between Paris (Orly) and Puy-en-Velay. You can then rent a car on arrival.
The accommodation's large capacity makes it a great place for family gatherings or to meet up with friends.
Natural treasures
In the southern French region of Auvergne, the Velay boasts a variety of landscapes. Here you will discover the valley of the Loire river, the Mézenc mountains and the Devès volcanic plateau descending into the Haut Allier valley.
All of these exceptional natural sites are a stone's throw from the accommodation. The Loire river originates at the foot of Mount Gerbier des Joncs then flows over volcanic rock creating the unspoiled Loire river valley and the extraordinary gorges. The Haut Allier valley also provides a breathtaking landscape for walking or canoeing.
Outdoor activities
These varied landscapes are the perfect backdrop for outdoor activities. The hundreds of miles of marked paths crisscrossing major hiking trails have made the Haute-Loire area a Mecca for walkers.
Our large holiday rental home is in fact at the crossroads of several long-distance walking trails: the Robert Louis Stevenson trail (GR70), St. James' way (GR65), the Regordane trail (GR700) and the Velay circuit (GR 40). The Haute-Loire in fact offers a huge number of marked walking trails compared to other areas in France. 365 trails are available to download free of charge on the Haute-Loire hiking federation website: www.chemin-rando-hauteloire.fr. Some walks are available just outside the accommodation. Many services are available to make your walks easier, such as the Malle Postale, which offers to pick you up after you have walked along part of a long-distance trail and drive you to your destination the same evening. There are also services to carry your luggage.
Auvergne is also ideal for mountain biking, and electric bikes make cycling even easier (an ideal way to discover our region without too much effort). Our rural holiday home, the Bâtisse de Lucien, has a room to park your bike in the evening and charge the batteries. You can rent out electric bikes nearby, in Puy-en-Velay for example.
There is now another way to take the Haute-Loire trails without breaking a sweat: with an off road electric scooter. Just follow your guide from Haute Loire's most beautiful locations to enjoy the viewpoints and wonders of our region.
Summer/Winter
In summer, enjoy our lakes and rivers, bathe in the Loire river, Allier river or Bouchet lake (a volcanic crater lake in unspoiled surroundings). The Haut Allier valley is an amazing place for canoeing and rafting. A whole host of other activities are available close to the accommodation: treetop adventure courses, summer tobogganing, escape games, a leisure pool…
40 minutes from our 5 star accommodation is Les Estables, a mid-mountain resort offering cross-country skiing trails, a few downhill slopes, snowshoeing and sledding… You may also want to walk up Mount Mézenc, the highest point in the Haute-Loire area. A variety of walks are possible from the resort, and you might just be lucky enough to see some marmots. You will be sure to see the impressive herds of cattle bred for the famous local Fin Gras beef.
10 minutes from our charming holiday rental home is the medieval town of Puy-en- Velay, a UNESCO World Heritage Site. A key religious site and the starting point for the pilgrimage route of St. James' way, the town is famous for its monuments perched on volcanic dykes (bodies of magma), giving it a look of Rio de Janeiro.
In the summer evenings you can watch the Puy de Lumières light projection show exalt 9 sites and monuments in honour of our region's history. This is in addition to many other digital attractions such as the Hôtel de Lumières or the Terre de Géant show, an immersive experience taking you on a breathtaking flight to the Haute-Loire's most stunning sites.