Pool and spa
We wanted to make our spacious holiday rental home in Auvergne in the south of France the perfect place for friends and families to enjoy. But we also wanted to make sure that it was somewhere to relax and recharge your batteries close to nature.

You have access all year round to the 30 square metre wellness area. Looking out onto the mountains, you can relax and enjoy a massaging hot tub. Afterwards you can continue to unwind in the lounge/relaxation area.

In the warm weather, you can enjoy the heated outdoor pool and sun loungers.

If you wish, our massage therapist can come to your accommodation to give you a massage or spa treatment.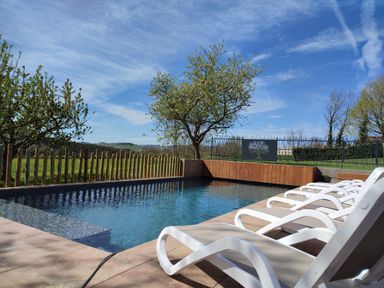 Spa area
Located in a former outbuilding, the 30 sq.m wellness area has been designed to let you take the time to relax, unwind and simply enjoy the surrounding nature. This indoor space is open all year round.
The hot tub is large enough for 5 people. It has 93 jets for a quality massage so that you can feel perfectly relaxed. There is also a tea corner in the lounge area for you to continue to unwind on comfortable seats and simply enjoy the present.
The wellness area has its own toilet and shower for your convenience.
Swimming pool
The swimming pool is 4 x 9 metres (13ft x 30ft). There is a 35cm (14") ledge for small children or for the adults to enjoy the sun while staying cool. The depth of the pool ranges from 1.15m (45") to 1.45m (57") to suit all ages. The water is heated by a heat pump and a polycarbonate cover which captures heat from the sun.
For your children's safety, the pool has a fence and gate with a safety lock. There is also a pool cover controlled by a key switch to close the pool completely. You can soak up the sun on the deck around the pool on one of the sun loungers. Or, if you prefer the shade, there is a perfect spot nearby on the patio under the walnut tree.
Spa treatments and massages
If you want to get the full wellness experience, why not try our different massages and spa treatments? Charlotte, our massage therapist, can provide her full range of treatments at the accommodation, including massages and facials.